Building youth-centred and equity-conscious engagement practice
This blog series responds to some of the key questions raised at the Science Learning Plus (SL+) showcase in October 2022. SL+ was a Wellcome-funded programme, aiming to create and strengthen research-practice partnerships in informal science learning.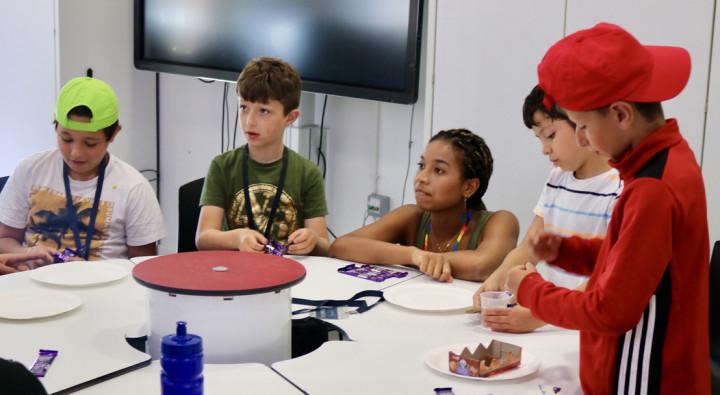 In the first of a 3-part blog series Lewis Hou, Founder & Director of the Science Ceilidh, reflects on his work and experiences in building equity-conscious and youth-centred programming in informal science learning, sharing the challenges and lessons along the way for those who want to build more equitable engagement practice.
How can transdisciplinarity across arts and sciences be a tool to support the most marginalised young people? How can we deconstruct the norms around STEM practices and what they look like for young people? How can we centre equity within the work we do and use this to shape practice, for all those working in science learning, from educators to policy makers?
These are just some of the questions that were posed at the Science Learning Plus (SL+) showcase event in October 2022. The event demonstrated how strongly everyone felt about the importance of equity-conscious and youth-centred programming, but we also left feeling a collective sense of "What next" for this work. I wanted to share a few reflections and provocations for the wider sector, based on some things I've been mulling from my own work. 
What does equity conscious work look like?
Focusing on the richness and assets rather than just addressing problems.
For me, supporting equity means recognising young people for who and where they are, and valuing their perspectives, often in a wider system that does not. A particularly vivid example draws from our "New Scots Connect" project with Multicultural Family Base in Edinburgh, which supports young people from diverse migration backgrounds to engage with engineering through play. On a visit to our partners at Royal Observatory Edinburgh, a conversation about the names of constellations became a rich cultural exchange between the young people, youth workers and facilitators, sharing the Arabic names, animals and stories for the stars and connecting this to the legacy of the first astronomers from the Islamic world.
The following week, the young people's bejeweled interpretations of the constellations, to their surprise and delight, were displayed on the Royal Observatory's walls. Their insights were transforming both us and the space, one example of many that highlighted language as an asset, rather than a barrier. It provided a way for everyone to recognise the "multitudes" of experiences and identities the young people had. The time for translation helped support a more relaxed pace with more thinking time and chances for the young people to support each other's understanding. For the engineers, it was a chance to build a relationship based on mutual learning and wider cultural understanding. This supported the young people's confidence and sense that they had a right to be in this space, making the project culturally richer for all involved.
As a sector, we often recognise the moral reasoning that drives this work: Addressing both the historic and current exclusion and marginalisation of specific groups is the right thing to do. However, only focusing on this often misses the positive opportunities, sense of community and richness of stories this work can support.
Supporting self-determination for everyone means that people can do better quality engagement and research, but are also more engaged and empathetic neighbours and citizens. Without this social impact and building of democratic cohesion, I'd argue that there is limited value to "high quality research".
How can we build further advocacy for equitable practice?
We're not alone in being interested in the social outcomes of STEM research. The Science Learning+ projects and wider programmes like the BBC Children in Need and Wellcome Curiosity programme are beginning to show how curiosity-driven STEM activities can be a tool for youthwork and provide a safe space for young people to explore and fail.
Youth workers are already experts at working in youth-centred, equitable ways. So, what can happen if these already trusted connectors are enabled to embed STEM, creatively and across disciplines, in their work? How can we build more evidence to support this? 
This is something we're exploring with our Science and Technology Facilities Council funded "Curiosity In Action" programme. We will be pairing youth workers, young people and researchers in Scotland to undertake participatory action research, developing the evidence base to understand how STEM can have an impact on outcomes such as wellbeing, resilience and confidence building. Alongside this, we will be building a wider network and resources to connect, and advocate for, scientists to learn from youth workers about how to centre young people, and for youth workers to consider STEM as another useful tool in their work.
How do we manage competing priorities?
We'll also be exploring the motivations and priorities around this work. Social outcomes, research dissemination, improving science capital and knowledge democracy, encouraging more career diversity - managing these competing priorities is a common challenge. Whilst different motivations can be a source of learning and richness - assuming clear communication and relationship building is established – there can be a real challenge when the motivation and wider structures, such as policy and funding processes, don't match those of the young people and practitioners.

This mismatch is consistently reported as a significant barrier to equitable engagement. For example, having to set rigid outcomes and budgets at the beginning of a project does not allow for space to respond to evolving needs. The evaluation focuses on metrics rather than breadth, or ethics processes which can be inflexible and disempowering. Often, it's the groups with the least power in the process who are required to be the most flexible.
More work is needed to facilitate honest conversations between funders, institutions, researchers and practitioners on recognising this power dynamic and simplifying this process. Encouragingly, this is already starting to happen. The British Science Association is working on making this process much more participatory and community-led (which I will explore in a future blog).
Other research funders have embedded a specific equity and youth-focus across their own funding streams with the Wonder Initiative. The Association for Science and Discovery Centres (ASDC) are also starting to bring together science engagement funders to see if they can converge on a few shared metrics which focus on social impacts on young people to help meet this challenge. There is much to do, but things are moving forward.
Further resources
By Lewis Hou, Founder & Director Science Ceilidh
This blog series is supported by the Science Learning Plus (SL+) programme. The NCCPE along with the British Science Association (BSA) and NatCen Social Research (NatCen), delivered the final phase of the programme, working with the 5 funded projects to consolidate the lessons learnt and engage with research, practice and policy stakeholders to advocate for more support, funding and investment in ISL. Find out more about the 5 SL+ projects, key lessons and outputs.