And the 2020 Engage Watermark award winners are...
The 2020 Engage Watermark has been awarded to four HEIs, in recognition of their commitment to public engagement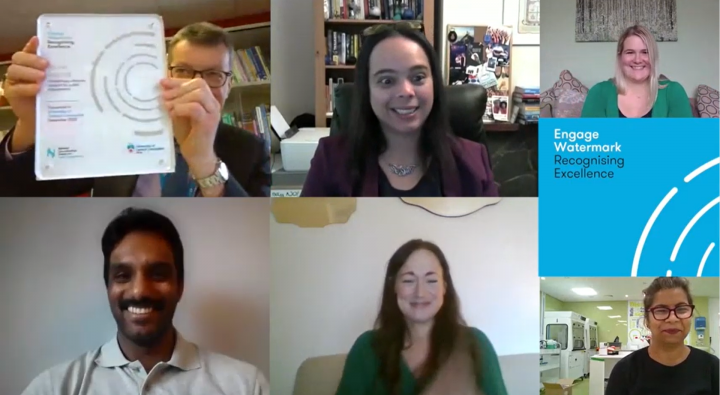 02 / 12 / 2020
Four UK higher education and research institutions have been awarded gold and silver Engage Watermarks, recognising excellence in their strategic support for public engagement.
The Engage Watermark is a charter mark awarded to universities, assessing their support for, and practice of, public engagement across all aspects of their work, as well as their plans to develop this work in the future.
The awards were announced live at the NCCPE's Engage Festival 2020 and presented by special guest host Ottoline Leyser, Chief Executive of UK Research and Innovation (UKRI).
The four institutions underwent a rigorous assessment process involving staff and students from across their campuses, and the partner organisations working with them. The University of Dundee has been awarded a gold Watermark award, and the University of Central Lancashire, The School of Physical Sciences at the University of Kent, and the Gurdon Institute at the University of Cambridge have all been awarded silver Watermarks. We have created a short film celebrating the work of the four awardees.
Scroll down to hear more about some of the excellent public engagement work underway at our winning institutions, and to see them accept their awards:
School of Physical Sciences, University of Kent (Silver Award 2020)
"The School of Physical Sciences is delighted and very proud by the award of Silver Watermark. We have placed Public Engagement and Communications (PEC) as a third stream of our mission alongside Teaching and Scholarship and Research and Enterprise, believing that to achieve excellence in these missions we must disseminate our aims and achievements to the widest number of stakeholders.
"Placing PEC at the centre of our teaching and research and supporting our staff in their PEC work is core to the School. We are therefore thrilled to achieve NCCPE recognition of our work in this area and look forward to making continued progress both in our school and across the Division of Natural Sciences and the University."


Professor Nigel Mason, Head of the School of Physical Sciences, University of Kent. 

Gurdon Institute, University of Cambridge (Silver Award, 2020)
"I am absolutely delighted that the Gurdon Institute has been awarded a Silver Watermark for our public engagement work. We strive to make our fundamental biological research accessible and responsive to the public for the mutual benefits of inspiration, knowledge exchange and trust. This award recognises the quality of our past activities and our exciting and ambitious plans for the future."
Professor Julie Ahringer, Director of the Gurdon Institute
"The Silver Engage Watermark award is a great achievement for the Gurdon Institute, and I am very grateful to all our staff who have dedicated time for engaging with the public alongside pursuing their research. This award is also a stimulus to do even more in future!"
Dr Hélène Doerflinger, Public Engagement Manager
University of Dundee (Gold Award, 2020)
"I am delighted to accept this prestigious award on behalf of the University of Dundee. I am extremely proud to lead an institution where our staff and student community are so passionate about engaging with the city and beyond, to effect real change, and to develop meaningful relationships with those we engage with.

"Our mission as a university is to transform lives locally and globally through the creation, sharing and application of knowledge. This award shows that we do not only state our aspirations but we live up to them through our actions and activity. My thanks go to everyone in our University community who has contributed to our public engagement work."
Professor David Maguire, Interim Principal and Vice-Chancellor
University of Central Lancashire (Silver Award, 2020)
"We are delighted to be awarded the Engage Watermark and for our work in this area to be recognised on a national stage. Public engagement is a vital part of our role as a civic university and we look forward to further developing two-way engagement with our local communities over the coming years."
Professor Graham Baldwin, Vice Chancellor