Research Journeys: talking from the heart about research
The University of Leeds Public Engagement with Research Team discuss their recent people development project, which aimed to give university researchers and staff the training, tools and confidence to speak publicly about their personal research journey.
By Dr Alexa Ruppertsberg, Head of Public Engagement with Research, University of Leeds, and Andy Guy.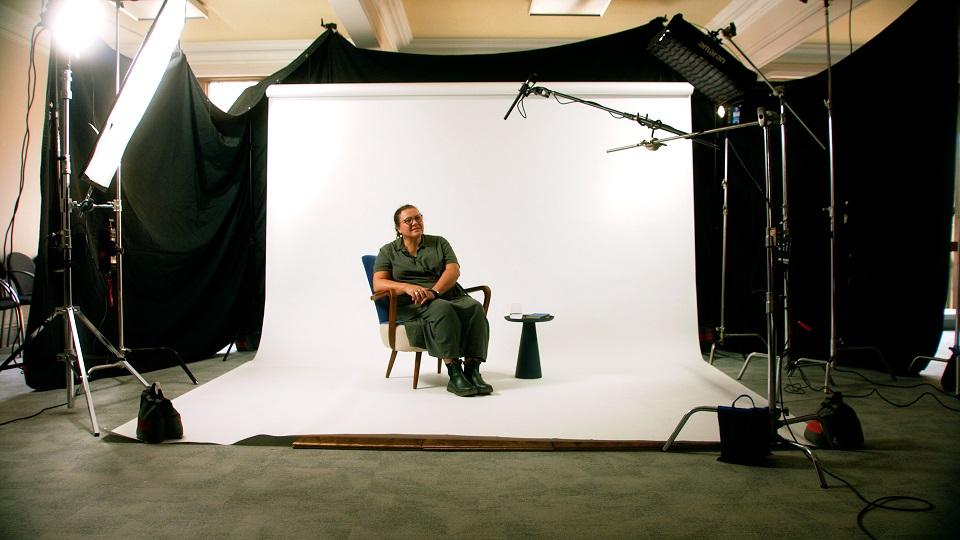 18 / 07 / 2023
The power of storytelling
When asked about our team's work, we often say that our job is to make research relevant in people's lives - the very people whose taxes pay for the cutting-edge research that is carried out at universities.
However, many people are unaware that universities conduct research and consider them solely as a place to provide education to fee-paying students. So, how can we let our local, national and international communities know what else goes on inside a university, in an inclusive way?
One way is storytelling. It is one of humanity's most valuable skills and can take many forms. Stories build empathy and capture the imagination. They have the power to change the way we think, shape the way we behave, and find connection with a broad range of audiences.
We have over 6000 research staff at the University, all with individual experiences and unique stories to tell. Our research community is diverse and rich with exciting ideas and innovations. All these people have great ambassadorial potential. Those personal stories are integral to breaking down barriers between research and the public. They can also be instrumental in dismantling the stereotype of research as a purely scientific, lab-based practice (a quick google image search on 'research' confirms this stereotype!).
The start of Research Journey
Inspired in part by UK Research and Innovation's '101 Jobs That Change The World' campaign, we launched 'Research Journeys' to equip research staff, regardless of their position or role, to tell their personal stories of how they got into the world of research. We wanted to capture relatable stories that include the challenges, detours and changes of mind that are key to the human experience and shape all our paths. We wanted honest and inspiring perspectives that show that there are many different ways into a professional role in research.
The initial idea for Research Journeys was to host a series workshops to provide skills and training to members of our research community. We identified that the most accessible and effective output would be a video series, providing a wide-reaching medium, for participants to share their newfound story-telling skills. Undoubtably, the prospect of speaking on camera can be daunting for many, but we were confident that the right form of coaching would build participants' confidence to take that step.
With budget secured from the Wellcome Trust Infrastructure funds, we appointed Storycatchers and professional storyteller Tim Ralphs to design and deliver a series of in person and online workshops and guided activities that would allow participants to explore their own story in a way that was comfortable for them, using personal anecdotes, reflections, humour and emotion to convey their journey. The workshops were designed to encourage conversations between researchers from disparate fields and for participants to be open, honest and receptive to ideas. As it transpired, the participants clearly already had strong ideas that they could bring to the table – this coaching allowed them to craft those ideas, clearly and succinctly into a cohesive, short form and relatable story.
We received a high number of applications for the 32 places on the initial workshops. This showed that there is a clear appetite for this form of skill and personal development amongst out research community. Applications came from individuals across all research fields, career levels and job roles, including long-term researchers, postgraduate researchers, professional staff and technicians. Many of the applicants said they valued this unique opportunity, alongside the actionable feedback they received.
Following the workshops, 20 participants who felt they could confidently tell their story to camera were selected to take part in the filming process. Speakers worked closely with a director and the production team to convey their story naturally and confidently to the camera.
And finally, Research Journeys was launched at the beginning of March 2023!
What did it mean for those involved?
Feedback from participants was overwhelmingly positive with 90% of the participants feeling more confident in telling their story and saying they would recommend the workshop to their colleagues. There was clear interest from individuals across our research community in communicating their personal stories with a wider audience. We found that this is particularly true in underrepresented groups in research, and that the platform gave them both the confidence to speak about their research, as well as affirm the value of their research and contributions.
What we found from this initiative is that there are many routes to research. While it might be theorised that many follow a strict path to research, Research Journeys proves that everyone's story is unique. There are obstacles, challenges, diversions and game changers in every story. Some have followed a traditional path towards academia inspired by a single event, passion, memory or idea. Others have deviated between paths, expanding their interests before coming to their current position. Others have come to research from industry, recognising a problem that they want to be a part of solving. There is no proven formula, nor should there be.
Research Journeys has highlighted a demand for more storytelling workshops. We feel we have sown a seed that will grow and develop, and we are excited to develop new storytelling initiatives with participants from across our diverse research community. As a direct result of this project, we are now working with the University's Equality, Diversity and Inclusion team to develop and share the stories of a cohort of researchers who form part of the 100 Black Women Professors Now Initiative, which aims to platform, encourage and give visibility to Black Women in academia.
Creating a legacy through storytelling
We have supported further engagement by developing a social media campaign to share the videos as widely as possible and have and were a  primary campaign for our new Twitter account @BeCuriousLeeds, which is dedicated to circulating accessible content from our research community.
The interest in the project, both internally and externally, has generated new opportunities for participants. The project featured in the University Library's 'Digital Bootcamp week' in March with a panel of speakers who shared their experiences and learnings of the Research Journeys process and on the University's corporate Research and Innovation website. Further, Research Journeys has featured at the Bradford Science Festival and we are in conversations to further the reach of both the project and its participants amongst other events in the region.
Research Journeys was very much a project that aimed to both encapsulate and explore our university's values - including community, compassion, inclusivity, and integrity - through individual storytelling. For a university to remove the barriers that separate it from the communities it should be supporting, it needs to be relevant and relatable in people's lives. A university is more than a place of student education. It is a diverse and expansive community of individuals who are passionate about making the world a better place. Giving them the confidence to share their stories helps to break down these barriers and inspire others.
Find out more
Explore unique stories, and the people behind them. Let us know what you think, and which one resonates with you most!