Dicey Dialogue: engaging scientists with public understanding
Lynda Dunlop and Elizabeth Rushton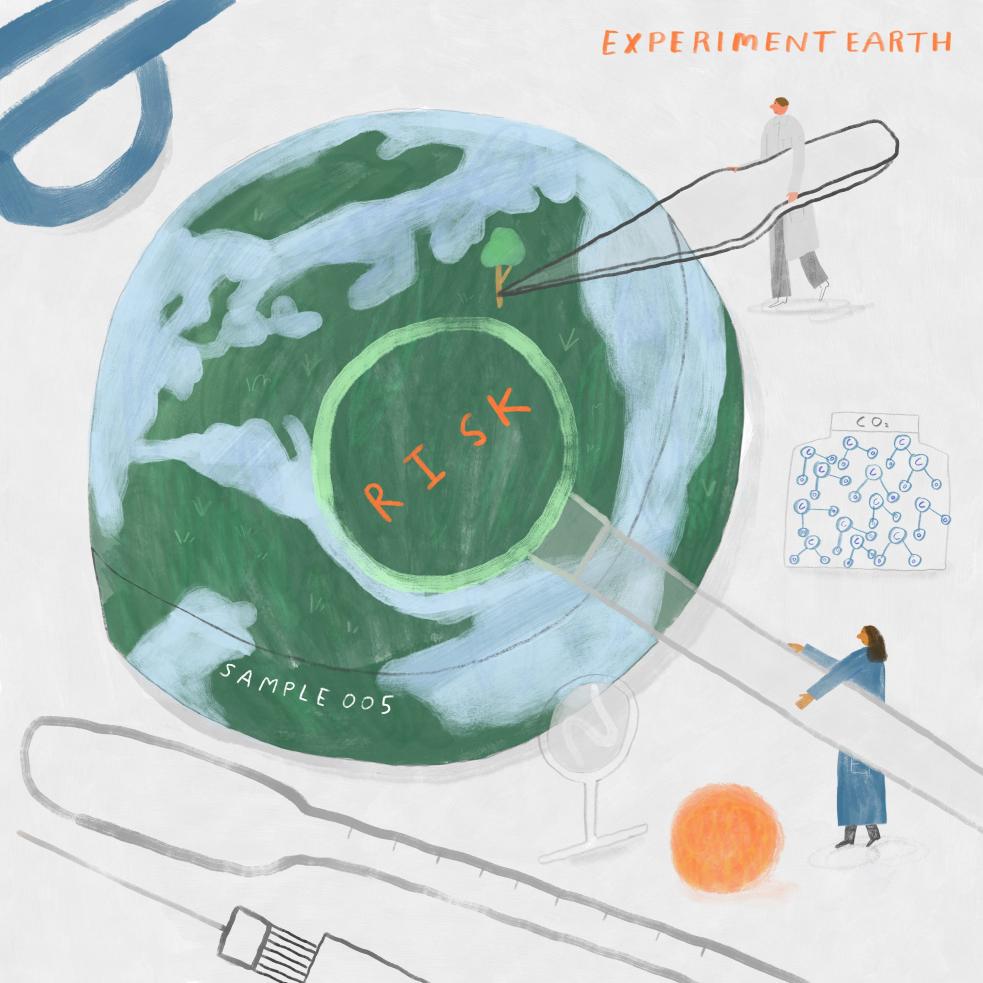 08 / 09 / 2023
Much attention in research is given to public engagement with science, with perhaps less given to how the public engages scientists with social priorities.  It could be argued that this is done through formal electoral processes, with funding priorities set by governments and distributed via research councils.  Even if this was an accurate reflection of reality, some groups are excluded from these electoral processes, not least young people.  Our focus in promoting 'dicey dialogue' has been to include young people in discussions with scientists and policy makers about future scientific and technological innovations in response to climate change.         
Climate interventions are controversial.  They include proposed technologies to remove carbon dioxide from the atmosphere and others to reflect heat from the sun back into space with the intention of cooling the planet. The research and use of these technologies introduces varying degrees of risk and uncertainty into the Earth's climate system, and the best estimates suggest that even if research was accelerated, they would not be able to make a significant contribution to the goals of the Paris Agreement before 2050.  For this reason, even talking about climate interventions can be considered controversial in case it raises false hopes about the role of technology.
In our approach to rethinking public dialogue, we wanted to explore young people's perspectives on climate interventions. This presents a challenge as the science is new and public awareness is often low.  The usual approach to public engagement on climate interventions has been to ask participants (most often, adults) to assess the acceptability of different approaches to climate interventions, often involving presentations by researchers 'close to the science', and often not involving discussions of economic, social and political responses that can be used already.  Such approaches run the risk of placing unfounded hope in a technoscientific rescue, advocacy for climate interventions by researchers working in this area, and deferral to scientists, even on issues that are not about the science.  During the DICEY (Dialogue on Climate Engineering with Youth) project, we used several novel approaches to youth engagement which may be useful with wider publics and which demonstrate ways in which research can contribute to both public engagement with science and scientists' engagement with society:
Leading with social science.  As a team of social scientists with no vested interest in research on climate interventions, we shared research on communicating climate interventions with youth participants. For example, we discussed research on the influence of communication on public perceptions. This includes the idea that natural framings (comparing interventions to artificial trees or volcanic eruptions) tend to be associated with more positive perspectives on climate interventions. This enabled the young participants to identify how framings were being used to persuade when they did their own online research on climate interventions.
Embracing uncertainty.  Rather than asking young people to take a position on new and uncertain technologies in response to an ongoing climate crisis which is causing destruction and catastrophe across the globe (particularly for the most vulnerable), we asked young people to create questions that they would need to know the answer to before taking a position.  These questions - a result of research and online discussions with peers - were analysed and illustrated to form an agenda for discussion.
Engagement with scientists.  Following the creation of questions, young people facilitated online dialogue with people involved in research on climate interventions – such as researchers, policy-makers in national and international foundations and NGOs. This 'downstream' engagement of scientists, who are experts in the field, redressed some of the power balances often present in public engagement with science.  Young people were able to set the agenda for discussion and through 'dicey dialogue', scientists and policy-makers responded to the questions prioritised by young people.
In these challenging times, it is important that science responds to - and is seen to respond to - the needs of society.    This has the potential to ensure the identification of research and policy priorities that can better benefit all of society.  Some of the questions young people created and discussed include:
Is this an experiment on Earth - do we know if these things will work?
Do climate interventions distract us from reducing consumption and emissions and making necessary lifestyle changes?
How can we reduce the impacts of climate change for people in the most vulnerable regions now?
What social, environmental, economic inequalities are produced by climate interventions? –
How can scientists, politicians and others ensure that climate interventions will not be used in war or to fuel conflict
We would love to discuss this approach with researchers in other fields where 'dicey dialogue' could be used to inform emerging research priorities. 
For more information visit https://www.york.ac.uk/yesi/networks/climate-change-network/dialogue-in-climate-engineering-with-youth/ or contact lynda.dunlop@york.ac.uk
This project was funded under the Rethinking Public Dialogue call from UKRI and the RSA.