De Montfort University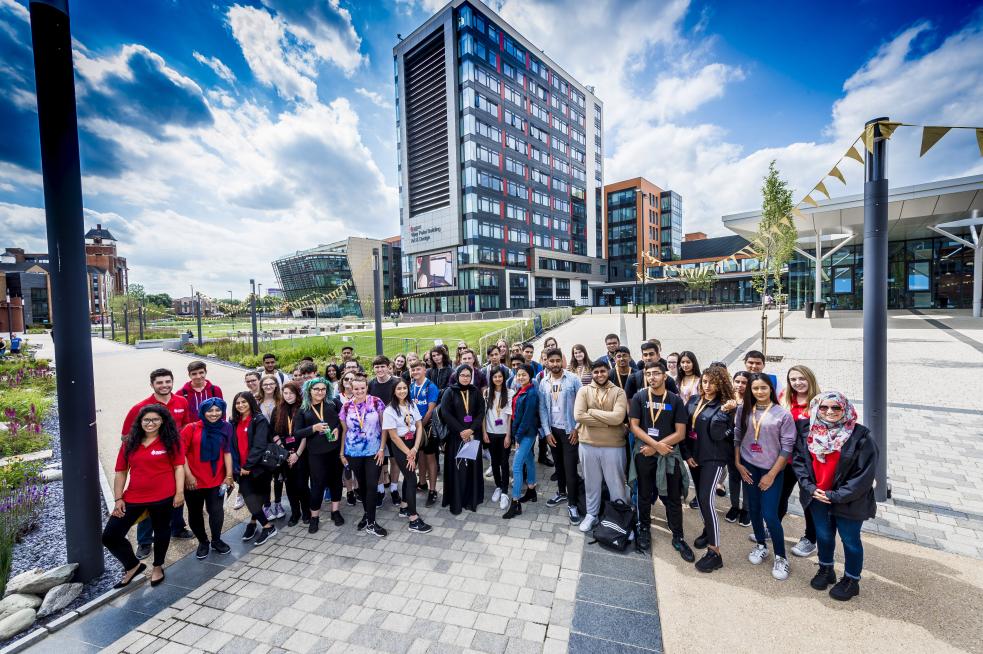 Why we've signed the Manifesto
"De Montfort University is a university of quality and is a university that places research excellence and innovation at the heart of our mission. We believe passionately that universities are a public good and we aim to carry out research and scholarly activities that combine the highest academic quality with significance for, and impact on, the wider society.
Public Engagement activities are embedded in many of our activities and the demonstration of tangible research impacts to funders, investors, partners and wider society is vital for the future, thus enhancing the visibility of our research and reinforcing our reputation as an engaged university."
Dominic Shellard, Vice-Chancellor, De Montfort University
Our approach to public engagement
De Montfort University has a simple but ambitious aim for its public engagement programme – to become the model for all universities in the UK. Our numbers are already impressive and we intend to continue expanding and evolving in the coming years.
We had 4,056 students volunteering or taking part in events in the past 12 months contributing a total of more than 35,000 hours actively touching the lives of more than 19,000 people across Leicester and Leicestershire.
Our public engagement programme - #DMUlocal – has active links with more than 60 local schools, there are student volunteers from 55 nationalities on campus and we are directly helping 2,000 children get educational support in India.
It is also important to us that not only are our students transforming the lives of others, their volunteering experience is transforming their own lives. It is creating life-changing experiences and 90 per cent of participants believe it has increased their chances of getting a job – and 100 per cent would recommend volunteering to a fellow student.
Our public engagement hallmark
Public engagement is all about making a difference – and there can be few projects making more of a difference to people's lives than the DMU's Square Mile India project. We're helping rebuild homes at risk of flooding, helping children get an education that would otherwise be denied them, people are getting tests that are improving their hearing and work is taking place to help prevent further flooding in the area.
A total of 215 students from DMU have now travelled to India since the scheme was launched two years ago and volunteered a total of 10,940 hours working on a series of community projects.
The projects, working alongside the local charity Manav Sadhna, have been expanded to strengthen the education programme across five community centres, which provides learning support to 2,000 children.
Work has also taken place to design new homes for the Loving Community, a home for former leprosy sufferers. Every year the heavy rains flood the homes of hundreds of people, who are forced to camp out in the community centre for months on end.
The cost of the works has been met by fundraising carried out by DMU students, staff and friends of the university.
Our public engagement talking point
The United Nations has identified 17 Sustainable Development Goals (SDGs) aimed at transforming the lives of millions of people by 2030. It is a programme endorsed by 193 countries across the globe with 169 individual targets within the SDGs.
De Montfort University has been selected as the global lead by the United Nations for one of its SDGs – goal 16 to promote peace, justice and strong institutions. DMU is the only university in the world to be granted the honour of spearheading work into an SDG.
However, the university is not just committed to SDG 16, but all of those goals.
All future #DMUlocal public engagement projects will be re-aligned to make sure they work towards one or more of the SDGs.
SDGs are also to be embedded into the curriculum with academics drawing up plans to integrate the 17 goals into all aspects of DMU's teaching, learning and research.
The honour comes on the back of DMU being made the world lead on the UN's #Join Together campaign to mobilise higher education to reduce the impact of forced migration.
Our public engagement people
Leicester Prison had its problems two years ago and received a damning report from their watchdog, the HM Inspectorate of Prisons. Governor Phil Novis was determined to do something about the problems and, after a meeting with De Montfort University's Vice-Chancellor Dominic Shellard, it was felt that a public engagement programme could make a difference. A unique partnership was launched between HMP Leicester and #DMUlocal that has seen more than 40 student volunteers put in 650 hours to a series of projects since 2016.
Governor Novis, who has now left to take over at Nottingham Prison, is no doubt of the value of #DMUlocal's public engagement projects – and he believes it has helped transform his jail and the lives of inmates He said: "The impact of the partnership is impossible to measure with metrics, but I have no doubt they are indelibly linked. They go hand in hand. With the help of De Montfort University, we have been able to create a feeling of community in the prison. "The events have helped make prisoners feel part of a community, and feel part of Leicester. It has enabled them to think of something else but violence and drugs."
Contact
Mark Charlton, Head of Public Engagement