Bournemouth University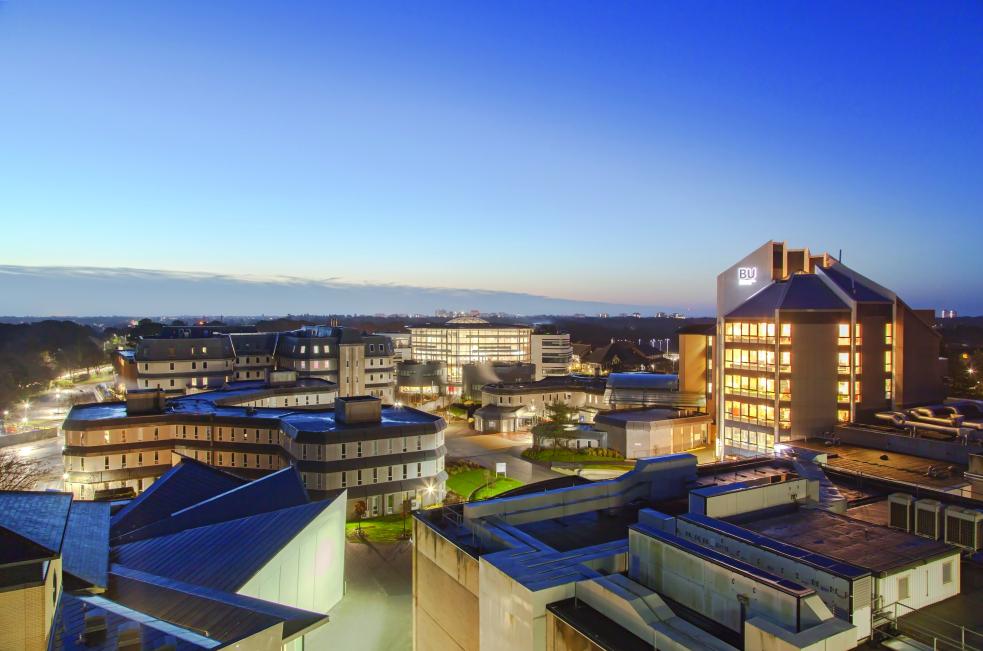 Why we've signed the Manifesto
"We have signed the Manifesto to signal the importance that Bournemouth University places on public engagement and to provide a framework for supporting further development of our public engagement activities. As an institution, we support the principles of the Manifesto and are striving to embed the best possible practice across the University and to celebrate existing excellence in public engagement."
Professor John Vinney, Vice-Chancellor, Bournemouth University
Our approach to public engagement
Public engagement lies at the heart of our BU2505 strategy, supporting our vision to inspire learning, advance knowledge and enrich society. We recognise the importance of public engagement on a societal level, supporting our objective to have staff and students as active citizens in their communities.
Engagement with the public takes place across the institution with Bournemouth University (BU) staff, students and graduates working together with regional, national and international partners across many sectors including creative and digital, health and medical science, advanced manufacturing, further education, research and practice.
At BU, we pride ourselves on ensuring that our research is informed by society, for the benefit of society. Our research, education and practice helps people live better for longer; protects and preserves a sustainable environment; helps to prepare for and recover from crisis; challenges marginalisation, misinformation and underrepresentation; and helps creative industries and cultural heritage to thrive. BU is a catalyst for growth in the region, with regional partnerships in healthcare, business and sport.
Our commitment to public engagement with research sees a number of benefits, with researchers able to develop more relevant and impactful research projects.
Our public engagement hallmark
BU's Public Involvement in Education and Research (PIER) partnership consists of public members who are experts by experience in health and social care. Having used a wide range of health and social care services, or acting as carers for family members or friends, PIER members bring a unique perspective and first-hand experience of these services. PIER members are involved in education, professional practice and research at BU - enhancing the practice of the future workforce in health and social care and helping people to live better, for longer.
Our public engagement talking point

An event for health and social care workers, informed by PIER members.
A recent area of focus has been developing the capacity and quality of public engagement with research across the university through a focus on training and support for BU staff, students and partners involved in public engagement activity.
We have provided opportunities for development through targeted training appropriate to experience, one-on-one support and facilitated 'springboard' public engagement opportunities to develop skills and experience. We propagate this expertise through an institution-wide network focused on public engagement with research, in which members can form collaborations, share best practice and celebrate one another's work. The network meets regularly and currently has over 200 members including post-graduate students, academic staff of all career stages and professional services staff. 
Our public engagement people
Public engagement activities are embedded across faculties and departments at Bournemouth University. Examples include:
The PIER partnership collaborated with 34 community organisations on education and research activities, enhancing learning for students and increasing the impact of our research.
Students from Bournemouth University ran workshops for around 500 local school students as part of the Dorset Leadership Academy, focusing on motivation, leadership, teamwork and communication, led by Andrew Boland.
As part of the ESRC Festival of Social Science, Dr Emma Kavanagh and Dr Adi Adams shared 'Ways of Seeing Sport Coaching Violence': an immersive multi-media arts-based installation showcasing research on interpersonal violence in sport.
'Jumping in: Transgender and non-binary swimming LGBT+' shared artwork co-created between Dr Jayne Caudwell and a local transgender social group, hosted at local art galleries.
Through the Online Public Lectures series, academic contributors, including Professor Jane Murphy, Dr Sophia Amenyah and Dr Duncan Light, have elevated our online events with high levels of professionalism, interacting live with large international audiences.
The exhibition 'bodyparts', involving Professor Michael Silk, brought to life research funded by the Arts and Humanities Research Council (AHRC), examining how media coverage of para-sport shapes public attitudes or influences the everyday lives of disabled people.

A visual representation of one participants self-perception after a LGBT+ swim sessions.
Contact
Adam Morris, Engagement Officer