Sustainable management of intestinal parasites of livestock in Botswana
updated on 11 Oct 2023
2 minutes
This project is focused on the transmission of parasites between wildlife and livestock and we work directly with farmers in Botswana to improve livestock health and to gather data that will allow us to develop sustainable and cost-effective worm treatment strategies.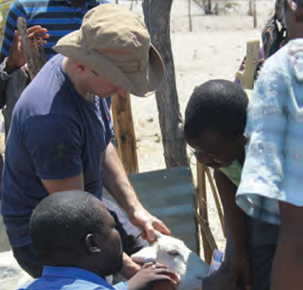 University of Bristol
We hope the research will inform locally relevant and seasonally targeted parasite treatment strategies for smallholder farmers at the border of a national park. To achieve these goals we initially held focus group discussions in order to learn about the livestock in the villages and diseases that the farmers think are important. The farmers indicated that intestinal worms are a big problem for them. In the next phase, we trained 47 farmers to use a simple, existing method called Five-Point-Check to identify individual goats within their herds which require treatment. The farmers check their herds and record data on a regular basis; this data will then be used to validate a model which will allow us to adapt targeted treatment seasonally for each village. We hope to use the information we've gained to train farmers to recognize and sustainably manage parasite infection in their livestock in a way that is cost-effective and locally relevant.
We are working in four small villages that border Makgadikgadi Pans National Park in Botswana, and we enrolled a subset of the livestock owners in these villages to participate in the project. The farmers helped us to define the specific parasites (gastrointestinal worms) which we would focus on, and we have been measuring the success of the project based on farmer participation and feedback. Following an initial set of training for the farmers, we asked them to continue to apply the targeted selective treatment method regularly and independently throughout the rainy season, and then we returned after three months. We evaluated progress using a short survey where farmers were able to provide open ended feedback and opinions on the programme and on how we can make the system better for them. We are currently in the process of retraining and remotivating farmers and tweaking the system based on their feedback. We will additionally evaluate the project based on measured health changes between the herds based on the level of participation and following of the protocol of the programme. This final evaluation will lead to a recommendation to the government of Botswana regarding the feasibility, cost-effectiveness, and sustainability of targeted worm management.