Heart and Lung Shops
updated on 11 Oct 2023
7 minutes
Shortlisted for the NCCPE Engage Awards 2016 in the STEM category.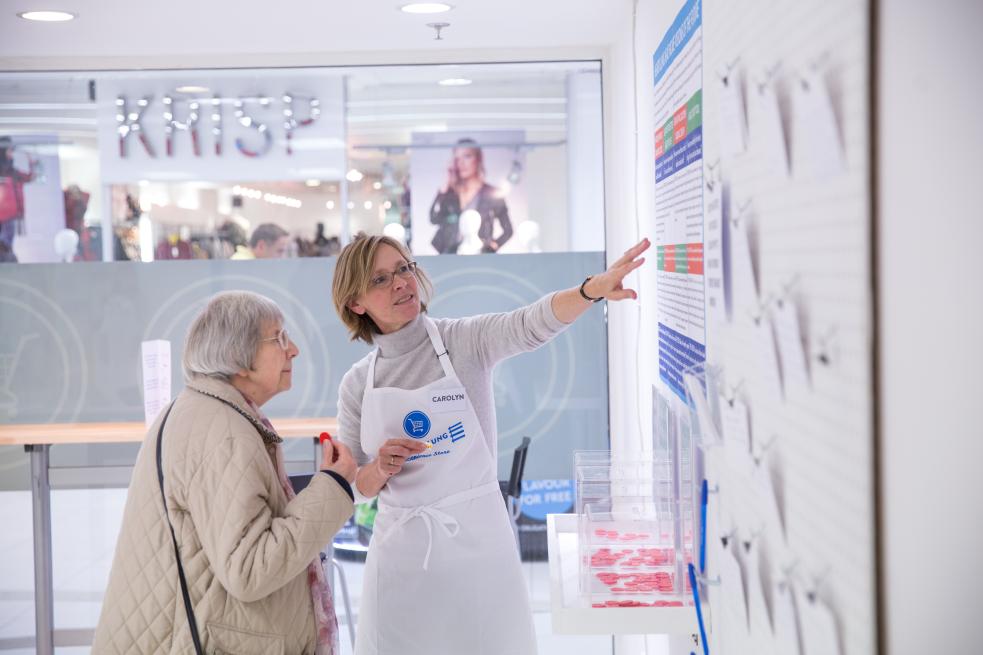 Researchers at Imperial College London used empty retail space in Hammersmith's Kings Mall to set up The Heart and Lung Repair Shop and Heart and Lung Convenience Store in 2014 and 2015 respectively.
Scientists and clinicians from the National Heart and Lung Institute (NHLI) collaborated with artists and designers to develop visually captivating spaces and interactive experiences that stimulated discussion about cardiovascular and respiratory research topics, and their social, ethical and cultural implications.
Activities included visual exhibits and displays, participatory installations, demonstrations, games, workshops, talks and debates, all of which were delivered and facilitated by researchers.
These pop-up shops were designed to allow scientists from the NHLI, a part of Imperial College London, to share their research and work with public in an immersive and interactive setting. In return, members of the public were encouraged to share their views on what they had seen and what they knew about how these two vital organs function.
The premise of both was to show in accessible ways the complexity of both heart and lung. The Heart and Lung Repair Shop was fitted out in the style of a mechanics' repair workshop with work benches on which participating scientists were able to conduct experiments. Members of the public were also able to operate a heart and lung machine. By contrast, the Heart and Lung Convenience Store 'sold' the kinds of products one might expect to find if such a store existed – for example, fresh air, oxygenated blood etc.
In both locations, the experiments and items on display were used to initiate conversations with visitors and by using the concept of a pop-up shop in the heart of one of London's busiest shopping centres, the projects were immediately accessible to thousands of people in the two-week period in which each ran.
Project team
Ellen Dowell, Public Engagement Officer and Creative Producer of The Curious Act (a programme of creative engagement with the NHLI)
Sara Rankin, Professor of Leukocyte and Stem Cell Biology, NHLI Imperial College London
Chris Faulds, Designer and production manager (freelance)
Annie Bowers, Graphic Designer (freelance)
Ellie Pinney, Photographer (freelance)
Purpose
The projects aimed to use collaboration between scientists, artists and designers to bring science to the community by creating immersive and interactive public engagement in a community setting, temporarily transforming empty retail units into vibrant hubs for creative engagement with the heart and lungs. In doing this, the projects aimed to generate benefits for researchers, collaborators and audience participants, stimulating discussion about cardiovascular and respiratory research and related social, ethical and cultural issues.
The intention of the project team was to share NHLI research in a creative and innovative way and build relationships with the local community in which it is based. At the same time, the team felt it was important to create opportunities for many NHLI researchers to get involved with the project.  
Background
The project was a flagship NHLI engagement activity focusing on many research areas including the use of stem cells to repair cardiac damage, gene therapy for cystic fibrosis, understanding the lung microbiome and environmental impacts on heart and lung health.
It was important to be able to find ways of exploring public perceptions about the scientific work and research around the heart and lung. When the project first entered its planning stages, pop-up shops and 'meanwhile spaces' had become familiar venues for arts and community projects but had rarely been used for public engagement with science. The pop-up shop format was an inspiring way to achieve that and stimulate discussion and debate about topics such as regenerative medicine, personalised medicine, rapid diagnostics, how the air we breathe affects our health and the potential of wearable devices and apps to revolutionise future healthcare.
The research team took advice from external organisations which had proven success in establishing spaces in buildings not originally designed for temporary purposes in order to ensure the project could be as successful as possible in engaging the public.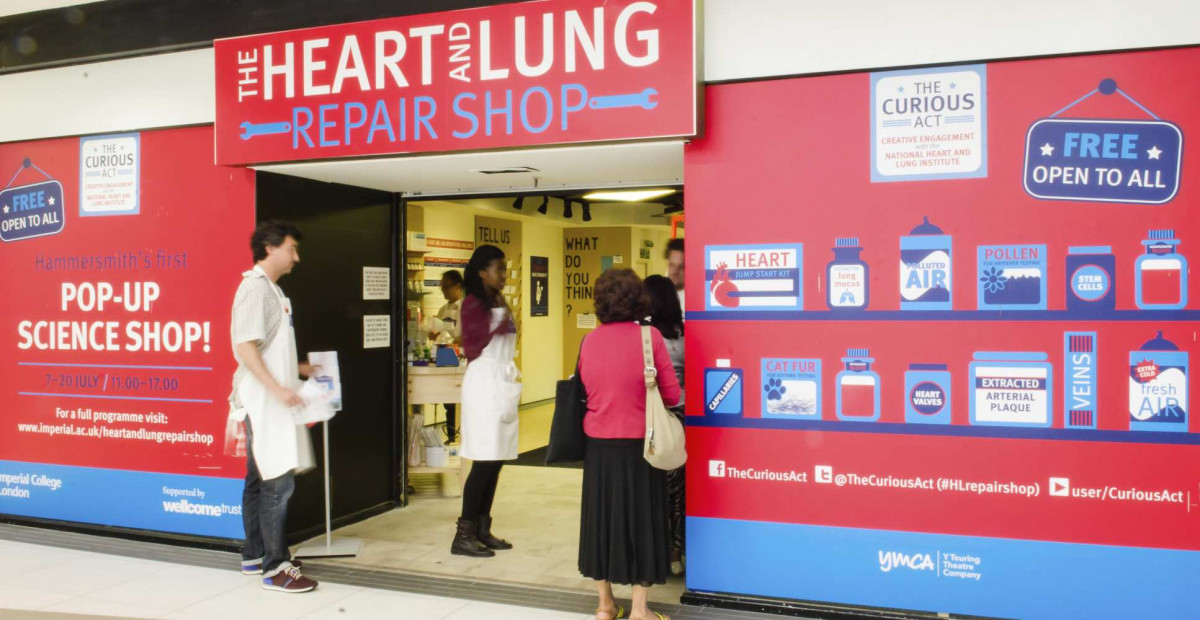 Approach
The project team defined its audience as the place-based community who live, work, go to school, spend leisure time or otherwise visit, Hammersmith and the Kings Mall Shopping Centre. Working closely with the development manager of the Hammersmith business improvement district, the team prioritised the gathering of local knowledge and information to inform the development of activities:
Launch event, attended by the Mayor of Hammersmith and other local champions
Shop demos (short talks for passersby and people living in the area, particularly residents of the Ashcroft Square housing estate located directly above the mall)
Lunchtime science (hour-long lunch sessions of talks/activities for local employees)
Weekend workshops for families
Evening adult-only debates
Schools workshops (for Hammersmith Academy and Flora Gardens Primary School)
Heart and lung themed pub quiz events held in the Hammersmith Ram
A secondary online audience was reached through YouTube playlists and a collaboration with Fun Kids radio.
For each shop the project team identified a key group of creative collaborators which included installation designers, graphic designers, performers, film makers etc) and also established partnerships with external organisations, including Theatre of Debate. The development of each shop had a clearly defined process. Core themes were developed by the creative producer and up to a dozen academics whilst the creative collaborators and researchers also held workshops to generate ideas.
Running alongside this work was the development of individual installations, exhibitions and activities and development training for researchers around the practical issues of running the shops themselves.
More than 150 researchers were involved with 4-9 researchers facilitating activities in the shops at any one time. 52 researchers developed shop demos or workshops, many of which are now available online. The members of the public with whom the project engaged took a variety of roles roles of explorers, questioners, debaters, browsers, spectators, experimenters, storytellers and game players. Each of the shops offered a range of interactive installations and exhibits as well as a daily programme of 'shop demos' and workshops.
Highlight activities included a Lung Capacity Competition and data visualization showing the average lung capacity of London postal districts, a 'pick and mix' installation of bacteria found in the lung microbiome and a Heart and Lung Lottery Scratchcard showing the interplay of genetic, environmental and lifestyle risk factors.
For both shops, a range of fictional products inspired by real research were developed through collaborations between scientists and a graphic designer. Examples included stem cells in a can, diagnostic tissues and DIY genome sequencing kits. All aspects of the shops were designed to stimulate conversations about NHLI research between visitors and scientists.
Evaluation
The project team worked with an external evaluator who led on the evaluation strategy, data analysis and reporting. Four key areas were identified as questions of importance for the evaluation, based on the project aims and objectives:
Is the project reaching the local community?
Is the project reaching an audience not already engaged with traditional science engagement?
Is a pop-up shop an effective format for two-way public engagement with science?
What are the impacts on the scientists involved?
In order to investigate the research questions and provide data relating to the project aims, a range of methods were used. These included  pre- and post-project surveys with collaborators, customer review cards, observations, vox pop interviews, postcode and demographic data from shop games and activities and visitor numbers.
Lessons learned
The first shop received 2,752 visitors and the second received 3,088 visitors. The events were successful in engaging the local community and partially successful in reaching those not usually engaged with science. The pop-up shop format was effective in creating two-way engagement and the project had many positive impacts on the scientists involved.
The first shop's 'repair' terminology, did cause some confusion by creating the expectation that visitors might somehow be 'fixed' or 'cured'.  Researchers found one challenge was the confusion with audiences around whether they could receive medical advice or treatment in the shops.
Learning from the first pop up shop was used to inform the development of the second. Changes that were made included:
Avoiding 'repair' terminology
Later opening hours to reach a wider audience
Larger retail unit to allow more activities
Longer lead time allowing for more in depth collaboration between scientists and creative practitioners
Legacy
The NHLI project team is working with the British Heart Foundation on a pilot project to test the feasibility of using the charity's furniture and electrical shops as venues for pop-up research engagement in the future. Working with one London shop in particular, the project is developing a programme of events engaging the local community with heart research. Researchers believe there is scope to roll-out this model across the network of over 170 BHF furniture & electrical shops in the UK. The learning from the pilot project will be used to create a toolkit supporting other cardiovascular researchers in delivering their own engagement events at British Heart Foundation shops.
Contact
For further information, please visit the Repair Shop and Convenience Store website.