Leading engagement for change: Meet the 2021 Engage Watermark winners
The 2021 Engage Watermark has been awarded to four institutions in recognition of their outstanding commitment to public engagement.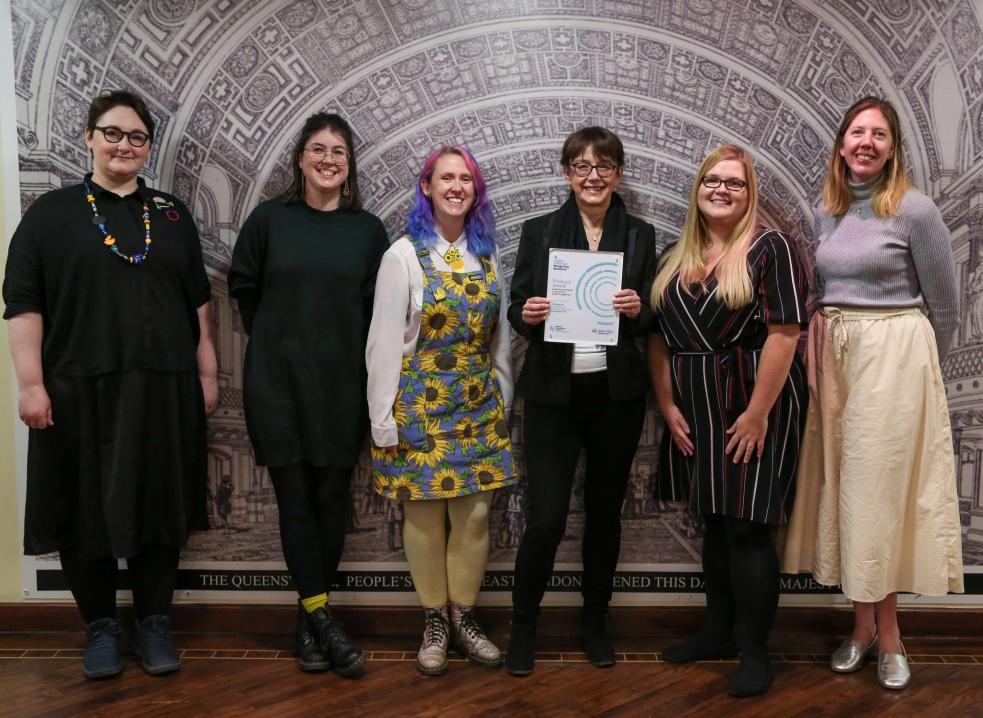 Four UK higher education and research institutions have been awarded Bronze, Gold, and the first ever Platinum Engage Watermarks in recognition of their outstanding commitment to, and continued excellence in, supporting public engagement.
The last 18 months have seen extraordinary global change. The COVID-19 pandemic, widespread activism against social, economic and racial injustice, and the growing threat of climate change, has thrown issues of inequity, power and privilege into sharp focus, placing new demands on public institutions which have needed to adapt quickly and decisively. The role of universities and research has come under increased public scrutiny.
Universities have rapidly mobilised during this time to open up their research, spaces and resources in response to the needs of their local communities. Many have been motivated to develop more inclusive public engagement practices, working with diverse communities to ensure their work is accessible and relevant.
How universities engage with the public is recognised by the National Co-ordinating Centre for Public Engagement (NCCPE) Engage Watermark - a charter mark awarded to universities for excellence in their support and practice of public engagement across all aspects of their work.
The awards were announced live at the NCCPE Engage Conference 2021 and presented by special guest host Dr Karen Salt, Deputy Director for R&D Culture and Environment for UK Research and Innovation (UKRI).
Watch the 2021 Engage Watermark Awards ceremony here.
The four institutions underwent a rigorous assessment process involving staff and students from across their campuses, and the partner organisations working with them. Queen Mary University of London has been awarded a Platinum Watermark – the highest level of accolade ever received, Newcastle University has been awarded a Gold Watermark, and the University of Huddersfield and Diamond Light Source (the UK's national synchrotron) have been awarded Bronze Watermarks. 
Winning an Engage Watermark is a significant achievement, demonstrating a high level of institutional commitment and a robust plan for further improvements.
Sophie Duncan, Co-Director of the NCCPE said:
"Since the early days of the NCCPE we have been championing a culture in higher education where public engagement can thrive. Never has this work been more important or urgent to address. The Engage Watermark offers a benchmarking opportunity for institutions to evidence their commitment and achievements – and we applaud the commitment of institutions who embark on this process with us and use the results to focus their future plans and ambitions to engage better with the public". 
Universities have encountered unprecedented challenges, but they have also been offered new opportunities to rethink their approaches to public engagement and realise their vital role as civic partners in their communities. Now in its 13th year, the Engage Watermark is perhaps more significant than ever.
Scroll down to hear more about some of the excellent public engagement practice, partnerships, strategies and approaches underway at our winning institutions.
Queen Mary University of London (Platinum Award, 2021)
"We are honoured and absolutely delighted to be awarded the first Platinum Engage Watermark. We strongly believe that creating and sharing knowledge with the public as partners is integral to ensuring our research and teaching has benefits for society.

"I am extremely proud of all of our staff and students who demonstrate that commitment every day, and I would like to say a special thank you to every member of the public, every community group, who has worked with Queen Mary – we share this award with you."
Professor Colin Bailey, President and Principal of Queen Mary University of London
Newcastle University (Gold Award, 2021)
"We are extremely proud that Newcastle University's commitment to public engagement has been recognised with a Gold Watermark award. As a University, we exist to benefit society through our education and research. This award is a testament to the incredible work of our colleagues and students, especially against the backdrop of the ongoing pandemic, working alongside our many partners to benefit the communities we serve." 
Professor Jane Robinson, Pro-Vice Chancellor Engagement and Place, Newcastle University 
University of Huddersfield (Bronze Award, 2021)
"We are absolutely delighted to receive the Bronze Watermark Award. Colleagues from across the University have worked incredibly hard to show the public outside of the institution the exciting work we do and the superb facilities that we have, so this is a wonderful recognition for them.

"The University was founded in 1841 with a mission to educate local working people. That commitment is stronger than ever now as we continue to offer excellent educational opportunities for all, but we also share and connect our world-leading research to create positive impacts with the people who benefit. 

"Our public engagement journey is very much on the right path and we will continue to support our staff and students to strengthen and celebrate our culture of purposeful engagement across a broader canvas."
Andrew Ball, Pro-Vice-Chancellor for Research & Enterprise, University of Huddersfield
Diamond Light Source (Bronze Award, 2021)
"We are really proud to have won this award.  It is a wonderful recognition of the past 19 years as we have embedded engagement with the public at the heart of the facility. The award is a credit to the time and energy given by our staff and contractors from open days, school visits and the Diamond academy, which welcomes school students for work experience, to supporting our staff and users in their own local engagement activities.

"In fact, in non-covid times, we have the same footfall as a National Trust House, so this is a real pat on the back for everyone that has been involved. We see this as the first step and are looking forward to cementing the recommendations so that we can grow these programmes further."
Isabelle Boscaro-Clarke, Head of Communications and Engagement, Diamond Light Source